Dialog Science 2013
The second Dialog Science took place between the 10th of October and the 29th of November 2013. At this year's conference, Prof. Dr. Dr. h.c. Hans-Jochen Schiewer, Dean of the University of Freiburg, President of EUCOR and spokesperson of the Science Pillar, assumed patronage of the event. This year researchers and scientists presented their work as well as various cross-border projects in context of the strategically important theme of Renewable Energies. A total of 27 events took place in eleven different cities in the region.
The opening event of Dialog Science occurred on the 14 October 2013 at the University of Freiburg. The theme of the event, within the scope of the Energy Symposium, centered on "The Tri-National Metropolitan Region of the Upper Rhine: A Region of Scientific and Academic Excellence." Prof. Dr. Dr. h.c. Hans-Jochen Schiewer and Prof. Dr. Paul Burger (head of the group Sustainability Research at the University of Basel) were invited to give the welcoming speech and Keynote presentation. In their presentations they stressed the importance that the different actors in business, politics, and science come together to establish an interdisciplinary center of excellence for sustainability. Prof. Dr. Paul Burger made the case for an alternative model to traditional growth, and raised an important question: "How can we ensure human well-being on the long-term without taking a path that involves the continuous increase of the consumption of natural resources?"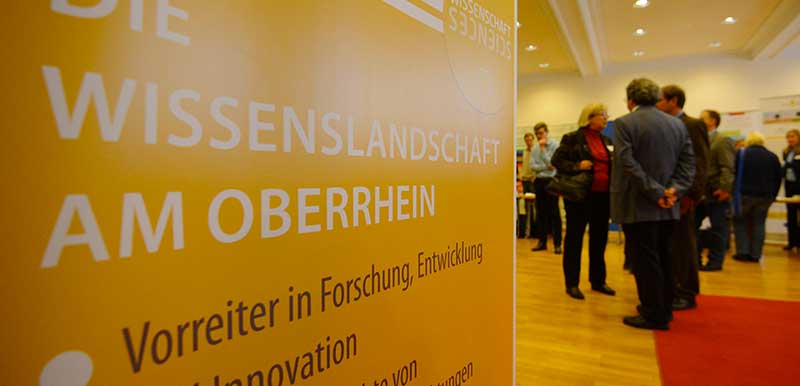 Consequently, there was a panel discussion in which Prof. Dr. Klaus Thoma (Director of the Fraunhofer Ernst Mach Institut in Freiburg), Prof. Dr. Eicke Weber (Director of the Fraunhofer Institute for Solar Energy Systems in Freiburg), as well as representatives of the Ministry of Science, Research and the Arts of Baden-Württemberg, the Ministry of Economy, Climate Protection, Energy and Regional Planning of Rhineland-Palatinate, the Alsace Region and the Government Council of the canton of Basel-Landschaft could exchange and discuss regarding the topic of energy.
Lastly, there were several short presentations of lighthouse projects in the field of renewable energy and their potential here in the Upper Rhine region. It was in this context that Prof. Dr. Schultmann and Prof. Dr. Fichtner et al. presented their project "Oui biomasse", which promotes cross-border sustainable use of biomass in the region. This project was funded by the INTERREG IV program.
Dialog Science 2013